In May 2017, I received my Green Card (the US Permanent Residency Card). This was a long journey and it took about 2 years, so I'd like to explain how I got one and what the journey was like.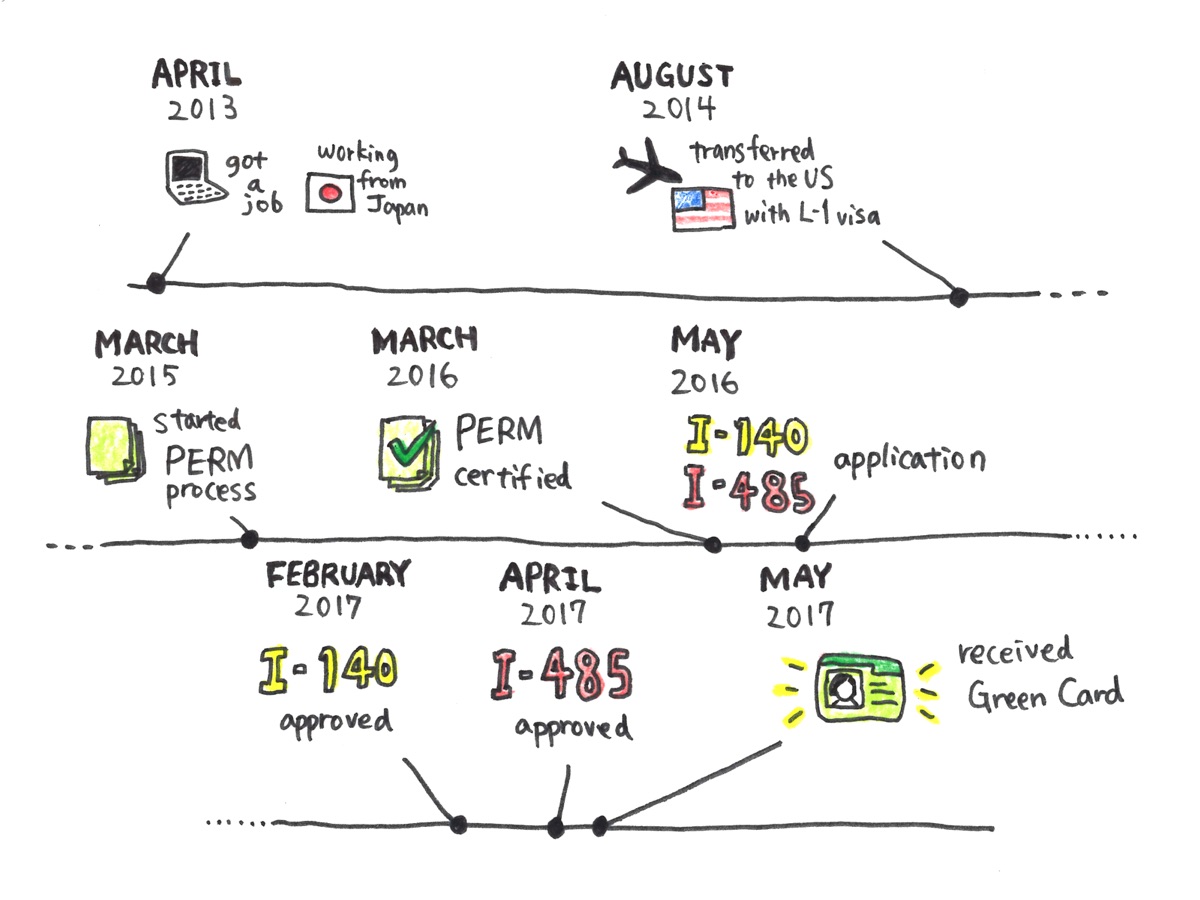 Beforehand: My situation
In April 2013, I got a job at an American company (Salesforce/Heroku). I started working remotely from Japan as I didn't have a working visa at that time. I had been living in the US right before I got this job and I wanted to return to the US, so we started an L-1 visa application process. In August 2014 (about one year later), I got the L-1 visa (L1B specialized knowledge category) and transferred to the US.
I applied for the Green Card through employment in the US through the EB-3 (Employment-Based 3) category, changing the status of my visa from L-1 (L1B) to permanent resident. My process will probably only be the same or similar to people who have L-1(L1B)/H-1B visas. Please note that some information may be outdated (especially the estimation for how long certain processes take, which can change over time).
Step 0: Before applying for the Green Card (August 2014 – March 2015)
After I moved to the US with the L-1 visa, people started asking me if I was applying for the Green Card. I was taking it easy at that time and wasn't thinking about the Green Card that much since I wasn't sure how long I would like to stay in the US. Also, applying for the Green Card with the employment-based visa means that you'll need to stay with that company (or even the same team/role during the PERM process) for a while. You never know how long the process might take (and it could take a few years), so I was simply scared to make a decision.
Over time and after discussing it with several people, I realized that getting the Green Card would open up my options for the future. It wouldn't mean that I would have to stay in the US forever nor become a citizen (permanent residency and citizenship are different and have different processes).
I told my manager that I was interested in applying for the Green Card in late 2014, and we started the process (my company has several "batches" for the Green Card application per year) in March 2015.
Step 1: PERM (Program Electronic Review Management) (March 2015 – March 2016)
If you're applying for the employment-based Green Card and your category is EB-2 or EB-3, you need to go through the PERM process. Lots of people who currently hold an L-1 (L1B) or H-1B visa will be either EB-2 or EB-3. Other visas, like O-1 and L1A, could skip this process as they're categorized as EB-1. Basically, with this process, the company needs to prove that there are no US workers (US citizens or US permanent residents) who are available and who meet the requirements for the position.
The PERM application looks like following; please note that this can vary among companies or lawyers. Additionally, there will be continuous filing of documents and reviewing of things going on between you and lawyers.
Prepare a job description and other documents/questionnaires
Place recruitment for the position as part of the labor market test (min. 30 days)
Mandatory cooling-off period for interviews, etc. (min. 30 days)
File the PERM application (parts 1-4 typically take 6 months)
The PERM application is processed by the Department of Labor (typically 2-6 months, unless the case is selected for an audit)
In my case, we started working on part 1 in March 2015, and we finished part 4 on October 12, 2015. Part 5 happened on March 15, 2016. The PERM would be not much different for L-1 or H-1B visa applications, I'd say. You continue doing all of these "proving I'm valuable" things. One additional thing I should mention is that you'll need "education documents and/or experience letters" for step 1. With these documents, you prove that you were qualified to apply for the position that you posted through the PERM process prior to joining the company. In my case, the experience letter mentioned what kind of projects I did in my previous company and what kind of skills/knowledge I had. They should come from previous employers and/or academic advisors or professors who were familiar with your coursework, so you'll likely need to contact them and work with them to get this done.
Step 2: I-140 (Immigrant Petition for Alien Worker) (March 2016 – February 2017)
After the PERM is done, applications for I-140 and I-485 (AOS - see Step 3) typically start together as USCIS can process them concurrently, although AOS cannot be completed until I-140 is approved. You don't need to do much for I-140. In fact, I think I just answered a few questions for the preparation and nothing else.
We filed both I-140 and I-485 on May 9, 2016, and I-140 got approved on February 22, 2017. For I-140, there is a thing called a premium process. Typically, I-140 takes 4-5 months, but with the premium process (filing fee is $1,225), you can get a result within 2 weeks. I decided not to use this process since I thought AOS would probably take 4-5 months, anyway. It turned out that my I-140 process was very delayed and took total 9+ months, so it would have been totally beneficial for me to utilize the premium process. This kind of delay can be very stressful even though you're not in a hurry to complete the Green Card application, and it was very stressful to me. I'd highly encourage you to consider doing a premium process if possible.
Step 3: I-485, aka AOS (Adjustment of Status) (April 2016 – April 2017)
The AOS is considered as the actual Green Card application, and this could require quite a lot of work on your end. Also, your category and country (in my case, EB3/Japan) determine how fast you can get this process done. For example, during my application, I was C (current, means no backlog) for EB3/Japan combination. However, if you take a look the current information (see "DATES FOR FILING OF EMPLOYMENT-BASED VISA APPLICATIONS" section of the Visa Bulletin website), you can see that there are several combinations where applications are still being processed from a very long time ago.
The two major hurdles for preparing the AOS are getting a birth certificate and having a medical examination provided by a USCIS designated civil surgeon. For the birth certificate, it's a bit tricky if you're from non-English speaking countries. I had to first get the birth certificate-ish thing in Japan in Japanese (since we don't really have the exact one), and go to the embassy to get the official translation of it. With the medical examination, you basically need to prove that you're well vaccinated and no harm to the US and get the assurance of the civil surgeon. You'll need to provide a vaccination record to the civil surgeon, which wasn't easy for me at all, and it took some time to get it ready. I'm sure that my mom got me vaccinated, but proving it was pretty difficult due to the language thing and lack of records; it almost would have been easier to just go through all the tests/shots again. There are also some shots that they just typically don't do in Japan, or weren't common when I was a child. Another option is to go directly to the civil surgeon and get the necessary vaccinations. In my case, to save money and to avoid repeated visits (e.g. if you need to take many shots to satisfy requirements, it can't be done within one visit), I just went to my doctor (Kaiser) and got tested for some vaccines to get a vaccination record, as well as getting several shots beforehand. I think almost all of them were covered by my insurance, which was really nice. This also meant that I didn't need to pay anything extra for the civil surgeon, and it was done in one visit.
Shortly after you've filed the AOS with the above documents, you'll be scheduled for biometrics appointments where you'll be fingerprinted and photographed (NOTE: this photo will be used for your actual Green Card. All other photos that you provide are NOT used for the card). I did my biometric in the beginning of June 2016. People kept saying, "Oh, you've done your biometrics? You've almost got the Green Card!" But then it took another 9+ long months after the biometrics until I actually got the card, and that worried me a lot. For some people, getting their biometrics done actually does mean that their card is almost there. However, the process varies a lot depending on the person and processes, so don't panic or be stressed. In fact, I have a friend who got his biometrics only 1 month before me and got his Green Card pretty much right after, which made me pretty nervous.
The I-485 was approved on April 25, 2017 (the sent date was April 17), and this meant that my status became a permanent resident.
All in all, I'd say that it took about 2 years from beginning to end until I got my Green Card. It was not short, I saw several of my extraordinary friends (well, almost trolling here but they are indeed extraordinary since they had O-1 "Individuals with Extraordinary Ability or Achievement" visa, and I do respect them) get the Green Card way faster than me, but I also saw people who took way longer than me. How long it takes just depends on so many things.
Step 4: Getting an actual card (May 19, 2017)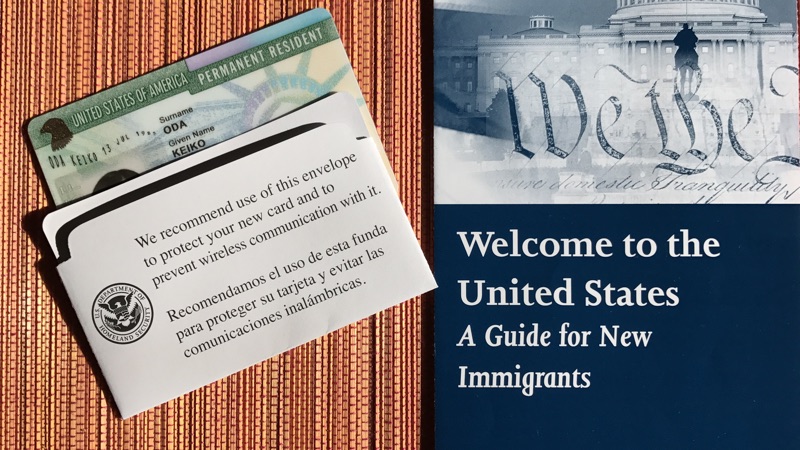 Usually, within 1 week of the approval notice letter of AOS, you'll receive the Green Card in your mailbox. Well, why did it take me almost a month to get the card? I'd like to share the mistake I made here.
During this Green Card process, I moved and my address changed. I had a mail forwarding service and it had been working well, including for government documents/notifications, so I totally forgot about (or, more like sabotaged) updating the address in the USCIS system.
After I got the AOS approval notice in the mail (which, I DID get it to my current address without a problem), I'd been checking the mailbox every single day like a crazy lady. I'd been continuously telling my friends, "hey, I should be getting it by now, I should be getting it by now, we should throw a party soon", but it still hadn't come after 2 weeks. Thanks to the friend who very much encouraged me to take action on this matter, I started contacting the USCIS people and asking about the delivery status. They told me that the Green Card was successfully delivered like 3 days after I got the AOS approval notice.
I'd been telling myself,"WELL, I know it's possible that it went to my old address but come on, the other letters had been fine so it shouldn't be that," and had been looking away from the reality, but it was the time I faced the fact. It did indeed go to the old address. It was a tricky situation because my old landlady had already sold that condo and I had zero ideas how to contact the current tenant. It is a fairly large condo building with good security, so it wasn't like I could go to the house and knock the door to ask them, "hey, did you happen to get my Green Card?" Somehow, I managed to ask another tenant to leave a (very desperate) note for the occupant of my previous unit. The current tenant was very kind to have saved the envelope for me, and we set up a meeting where I was finally able to receive the Green Card. It was an emotional moment and I was very happy to finally hold that card in my hands. It was great, really.
If you're reading this and you're in the process of any kind of visa/green card, PLEASE keep your address updated. The updating process is pretty easy and can be done online. Don't make the same mistake I did. I was definitely super lucky that I was able to retrieve it, but there was a great chance that I could have lost it and many friends told me that re-issuing the Green Card is VERY painful.
Special Thanks
I'd like to thank all the people who supported me through the process, and celebrated when I finally got it. It meant a lot to me. Especially, Peter Geoghegan, I don't think I would have been able to make it without you. You started doing the Green Card process way after me and just got the Green Card way before me (THANKS TO YOUR EXTRAORDINARY TALENT), but I was very happy to have you as a "Green Card buddy". This post was reviewed by Michelle Rowley, thanks!